Ma's Everyday Tomato-Cilantro Red Lentil Dal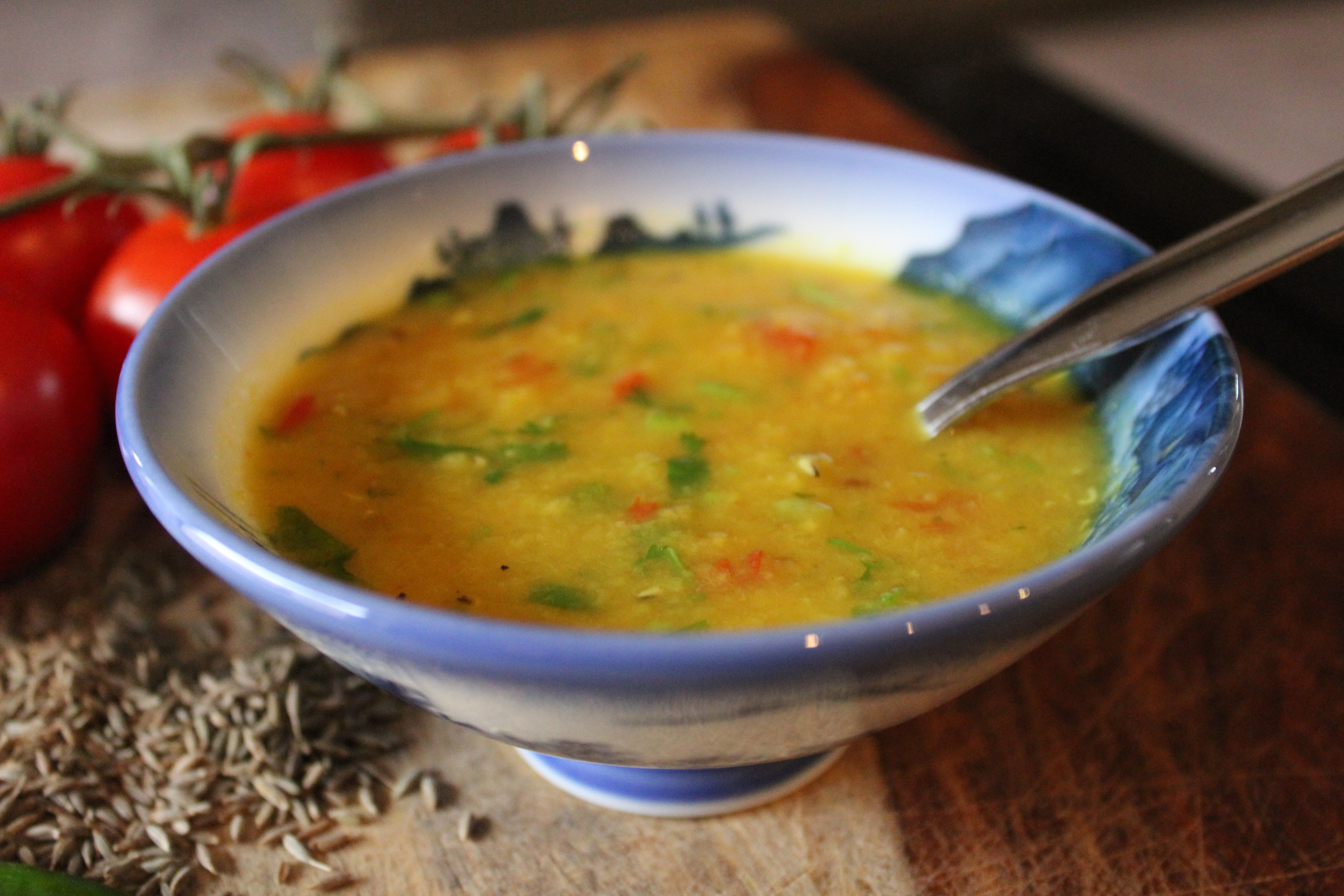 Dal… it's one of my favorite foods…
My husband, Jeet, comes from India, so I have been blessed to learn Indian cooking through the  Bengali side of my family.  Most of those lessons come from my mother-in-law, whom I call "Ma."  Ma is the youngest of 10 children and has had the opportunity to learn from all of her elders, so I have gotten to benefit from her learning.
One of the first things she taught me was to make dal.  Dal is a dish made out of hulled and split legumes, like beans, peas, and most commonly lentils.  My favorite is to make dal with red lentils (also called masoor dal) – they are thinner than most other legumes, so they cook up very quickly – great when you don't have much time to cook!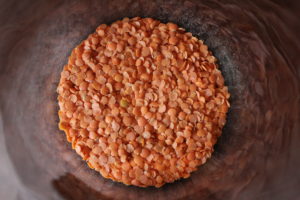 There are many variations you can make with dal – you can change up the type of lentil (green, moong/mung bean, yellow, black beluga, etc.) and you can get creative by adding vegetables and different aromatics.  But in this post, we will keep things simple to help those that have never made dal before learn a very easy everyday dish.
Here is a picture of my lentil jar – I am constantly filling this up because I make dal ALL the time.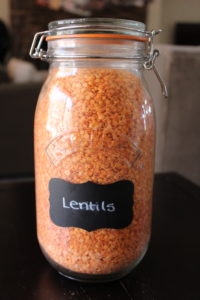 I like getting the largest bag (4 pounds) of red lentils from the Indian or Asian store because I cook it that much – I feel good making and eating it.  It's quick, nutritious, comforting, and filling.
Dal is traditionally eaten over fragrant basmati rice (we usually pair it with brown basmati rice and a side vegetable), but sometimes, we eat it as a soup with a salad/sandwich for lunch.  I always make extra, so there can be some left for other meals because the flavors actually develop even more overnight.  You can make enough for the week, so this is a great dish to make ahead of time.  Then to change up the meals, you just pair it up with different things – avocado toast, curried cauliflower, charred eggplant, roasted vegetables, superfood salad, etc.
It's a versatile dish, and that's why I want to share this recipe with you.  Fast, nutritious, and delicious is my favorite kind of recipe!
Before we get to the recipe, I do want to mention a technique that goes into making dal, called tempering in English, tarka in Hindi, or foron in Bengali.  This is the process of putting aromatic whole spices into hot oil to intensify them and bring out their incredible flavors.  It's a quick process that I'll explain more in the recipe below.  Here are pictures of foron I made for this recipe along with the finished result.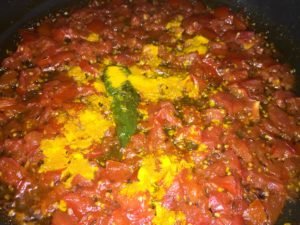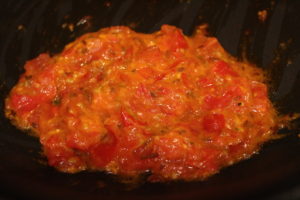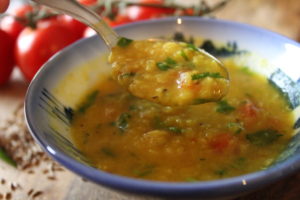 I love Indian spices – they work so well to give chi friendly foods bolder flavors.  Once I practiced this recipe enough, I started making variations and changing up the spices – so much fun to change things around and play with the flavors.
What kind of creative spins do you have on making dal?  I would love to read about them in the comments below!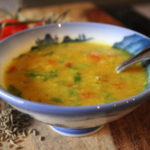 Ma's Tomato Cilantro Red Lentil Dal
For a fast, nutritious, protein-packed meal, this dish is a good choice for a busy weeknight.
Ingredients
Lentils
1

cup

red lentils

rinsed and cleaned

4

cups

water

1/2

jalepeno

use the whole jalepeno split in half lengthwise if you like it spicier; deseed it if you want to lessen the spice level
Foron / Tarka (Whole Spice-Infused Oil)
1

tsp

oil

(I recommend grapeseed or avocado oil, but you can use your favorite cooking oil)

1/2

tsp

cumin seeds

1

medium tomato, diced

1/2

tsp

tumeric powder

1/4

tsp

chili powder

(optional or adjust to taste)
Garnish
1

handful

cilantro (about 1/4 cup), chopped

I use the stems too - they are full of flavor!
Instructions
To prepare the lentils:
To wash the lentils, I put them into a 5 quart pot and cover the lentils with water. Then I swirl the lentils with my hand to wash them and discard the water through a fine strainer. Return the washed lentils to the pot, pour in 4 cups of water and bring to a boil.

Watch the lentils carefully because once they come to a rapid boil, it's easy for them to boil over and create a mess on your stovetop. This is why I like to use a big pot to cook dal.

Once the lentils have come to a boil, reduce the heat to medium and simmer lentils until they are soft (~ 15 min).

While the lentils are simmering, this is a good time to dice your tomato and start making the "foron," the spice-infused oil made through tempering.
To make the foron/tarka:
Heat up a small pan (preferably one with a lid in case the spices start popping) with 1 tsp of cooking oil. You don't want the temperature to get too hot - the maximum it should reach is medium, so you don't burn your spices.

Pour 1/2 tsp whole cumin seeds into palm of one hand and firmly massage them with the thumb of your other hand to release the oils.

Sprinkle the cumin into the heated oil - you should hear a little sizzle. If your spices start smoking, then your oil is too hot - remove the pan from the heat to cool the temperature down and return to heat once the temperature has calmed.

Also add in the cut jalepeno to the hot oil - this should sizzle too. I love seeing the skin start to blister a little. You will want to try to get all the surfaces of the jalepeno to touch the oil and release its fragrance.

Once you can start to smell the cumin release its aroma, it's time to put in the diced tomato. Here, the sizzle will be more intense, so keep a lid close by to shield from splattering in case it is needed. Stir the tomatoes into the cumin and let them cook down for 1-2 minutes.

Once the tomatoes soften, turn the heat off, sprinkle in the tumeric, and stir to mix well. (Turning off the heat before the tumeric helps ensure that it doesn't burn and become bitter.)

Combining Ingredients
Once the lentils are softened (it's OK to boil them longer than 15 minutes). Use a wisk to break down the lentils. This thickens the overall consistency.

Carefully pour the tomato-cumin-jalepeno foron into the lentils and stir to combine. Let simmer for 1-2 more minutes to allow the flavors to come together. Turn off heat and add the cilantro.

Before serving, stir the dal. The lentils tend to sink when sitting idol. If the dal thickens over time, mix in hot water to desired consistency. Serve over rice, have as a stew/soup, or have with bread/naan/paratha. Enjoy!
---