Cauliflower, Green Beans, & Peppers with Sweet Potato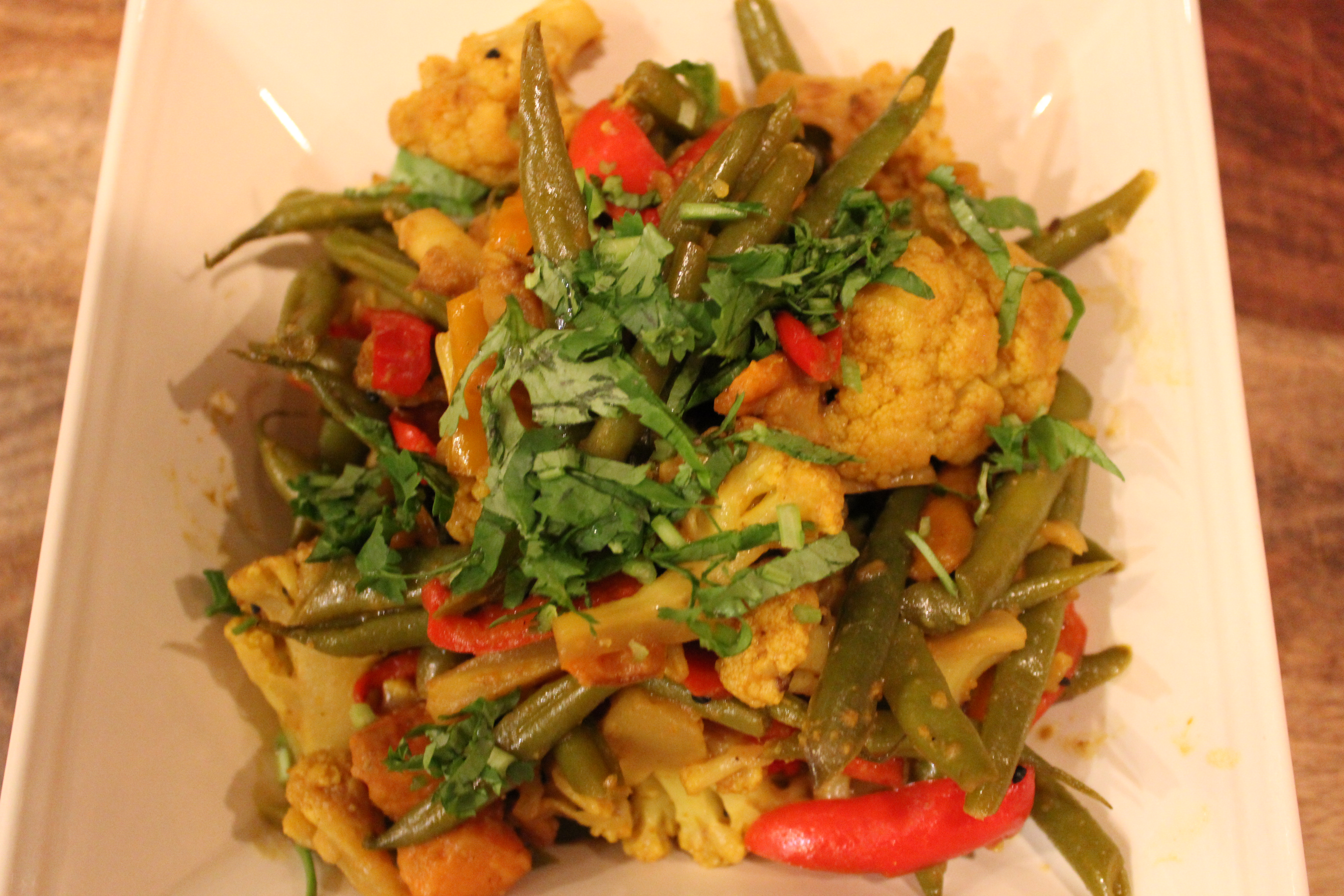 Cauliflower, green beans, and peppers with sweet potato was a dish created by Ma and me, as we were trying to figure out what to make for dinner one night…  It's not a traditional Indian dish by any means, but it has a nice combination of colors and flavors from the Indian spices that make this dish unique.
The family has been on a kick to be healthier lately, and Ma has wanted to help support this blog, so she helped me come up with something new, something we really have never made before.  And this was the dish!
When I go grocery shopping, I tend to look for ingredients that "speak" to me.  That might sound strange, but I'm really bad at making a list to shop from.  I like to see what's on sale and what looks fresh because I'm my father's daughter, and I love to look for a good deal!  Who doesn't like to buy nice things at low prices?
Don't these ingredients look beautiful?  We tried to put some colorful veggies together to make it visually appealing AND provide good nutrients!  I think my friend Stacy would be really proud of me for all of these veggies in one dish – cauliflower, green beans, peppers!  She is a lifestyle coach and is always encouraging people to eat more veggies because many people just don't eat enough of them…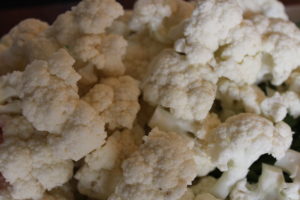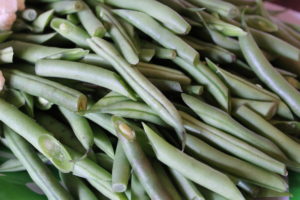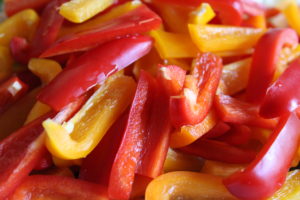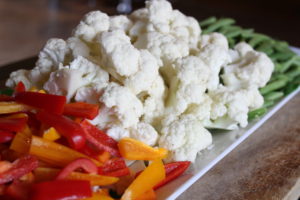 I was trying to come up with a good name for this dish, but I just didn't like any of the ideas that were popping into my head.  So I just figured I would be very direct and call it what it was!  If you come up with a name for this dish, please leave me a comment below!  I would love some ideas!
The spices used in this dish are the same ones I have used in other vegetable dishes, like Triple Saag: Indian-Spiced Greens.  In that blog post, I talk about panch foron, and there is a link to buy it on Amazon, if you want an easy way to buy some!
This dish pairs well with some dal (in my world, everything pairs with dal – I just love dal!) and some basmati rice.  Enjoy!
Side note:  Sorry for the not so pretty picture on top, but I promise it tasted good!  I had great sunlight when I was taking pictures of the ingredients.  But by the time we made the actual dish, it was completely dark outside, and I was at the mercy of the lights inside the house and the flash to bring my picture to life.  This was the best I could do!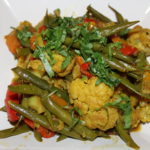 Cauliflower, Green Beans, & Peppers with Sweet Potato
Indian spices make these vegetables tasty and special! This is a unique recipe created by my mother-in-law and me. Vegan-friendly, gluten-free, dairy-free, detox-friendly, nutritious and delicious!
Ingredients
1/2

tsp

panch foron

(fenugreek, fennel, cumin, nigella, and black mustard seeds)

1

fresh chili/jalepeno

1

dried red chili

(or you could use red chili flakes)

1

Tbsp

fresh ginger, thinly sliced then julienned

(thin strips)

1

sweet potato (medium), cubed

1

medium head of cauliflower, 1 1/2" florets

2

cups

green beans cut into 1 1/2" pieces

(I cut them at a slant, but you can cut them anyway you wish)

6-8

colored mini sweet peppers or 1-2 bell peppers, cut into 1 inch pieces

(I cut them into strips and then cut them again in half)

1

tsp

turmeric powder

2

tsp

cumin-coriander powder
Instructions
Heat 1 tsp of your favorite cooking oil (I like avocado or grapeseed oil) into a deep pan, along with the following spices: panch foron, fresh chili, and dried red chili. If you don't want any heat in this dish, eliminate the chilis and replace with a bay leaf for flavor.

Once you smell the fragrance of the spices, add fresh ginger, sweet potato, cauliflower, green beans, and peppers. You may need to turn the heat up with this many vegetables in your pan. Sear for 1-2 minutes, then stir and cover to allow all the vegetables to cook.

Once the vegetables release some moisture (~10 minutes), add turmeric powder, cumin-coriander powder, and salt to taste. Stir to combine all the spices and cover to allow all the flavors to come together. Once the veggies are tender (~20 minutes of cooking), garnish with cilantro (optional) and enjoy!
---