Cabbage Carrot Chickpea Fritters / Pakoras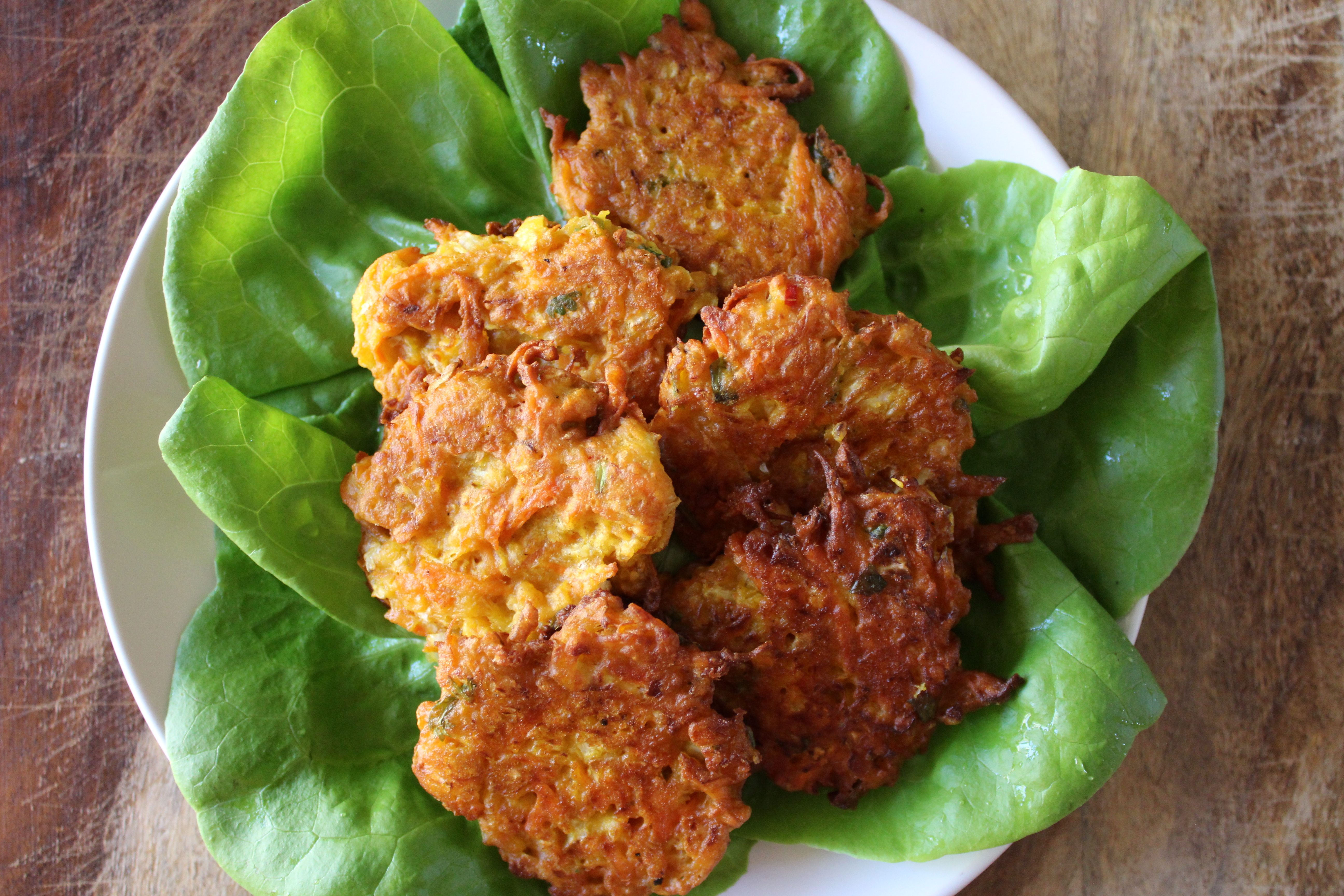 Cabbage carrot chickpea fritters, or pakoras, are a new recipe that Chi Friendly Eats has developed in celebration of the Hindu festivities going on this week.
My in-laws in West Bengal are all having fun, eating good food, visiting family and friends, and giving thanks to the goddess, Durga, for protecting them from evil.  To stay connected to the family traditions and pay respect to this religious celebration, I made these with my mother-in-law yesterday to serve our family.
Indians love eating "snacks," what we would often consider an appetizer.  Sometimes they are eaten during afternoon tea or before dinner.  Ma told me that common snacks she remembers having in Kolkata, India are pakoras (chickpea fritters), chops (a football-shaped fried croquette), samosas (another deep fried snack that is typically filled with potatoes and peas), and peas kachori (a round, flat deep fried pastry filled with spiced green peas).
Since I am still on my cleanse/detox, the one snack that is Arbonne detox-approved is the pakora because it is made with chickpea flour (also known as gram flour) and doesn't have to be deep-fried like the other snacks.  Making them at home, I am able to control what kind of oil I use, and to stay compliant with this cleanse, I used avocado oil.
Another bonus is that this recipe is gluten-free and vegan, so it accomodates a lot of dietary restrictions.
These are best eaten hot, so the family tradition is to make them fresh and offer them immediately for serving.  But if you want to make them ahead of time, they heat up well in the oven or in the toaster oven.
Pakoras are so good by themselves straight from the pan (just be careful not to burn your fingers or mouth!), but if you want to kick the flavors up a notch, they are amazing with a mint-cilantro chutney!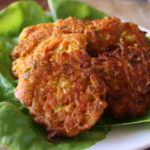 Cabbage Carrot Chickpea Fritters / Pakoras
A crunchy, pan-fried Indian snack made with cabbage, carrots, and chickpea flour. Vegan. Delicious!
Servings
30
pieces (approximately)
Ingredients
3

medium

carrots, shredded

(about 2 cups)

2

cups

shredded cabbage

1

cup

chickpea flour

(this may vary depending on the water content in your veggies)

1

tsp

salt

(adjust to taste)

1/2

tsp

black pepper

(adjust to taste)

1

pinch

chili powder

1/4

cup

cilantro or parsley, chopped

(optional)

1

jalepeno, finely chopped

oil

(avocado, coconut, or grapeseed recommended)
Instructions
Shred the carrots and cabbage in a food processor - this will save you so much time! You can also buy shredded carrots and cabbage from Trader Joes if you want an easy shortcut!

Put the shredded vegetables in a mixing bowl and add the salt, pepper, chili powder, herbs (if using), jalepeno, and chickpea flour (put this in last). You may need to adjust the amount of chickpea flour depending on how much water content your vegetables have. Mix ingredients. You basically want to put enough chickpea flour to bind the ingredients together and create a moist batter.

Line a plate with paper towels for your pakoras. The paper towels will help absorb excess oil.

Pour enough oil in your pan to thinly cover the surface and heat to a medium-high temperature. I sometimes test my oil with a wooden chopstick - if you put it in the oil and bubbles start appearing, it's hot enough!). Use a spoon to scoop the batter and gently place into the oil. My pan allows me to make 5 at a time. Pan fry both sides until golden brown. If the fritters are getting too dark, you may want to lower your temperature slightly.

Serve hot and enjoy with family and friends!
---