Balsamic Glazed Portobello Mushroom Sandwich with Creamy Pesto Sauce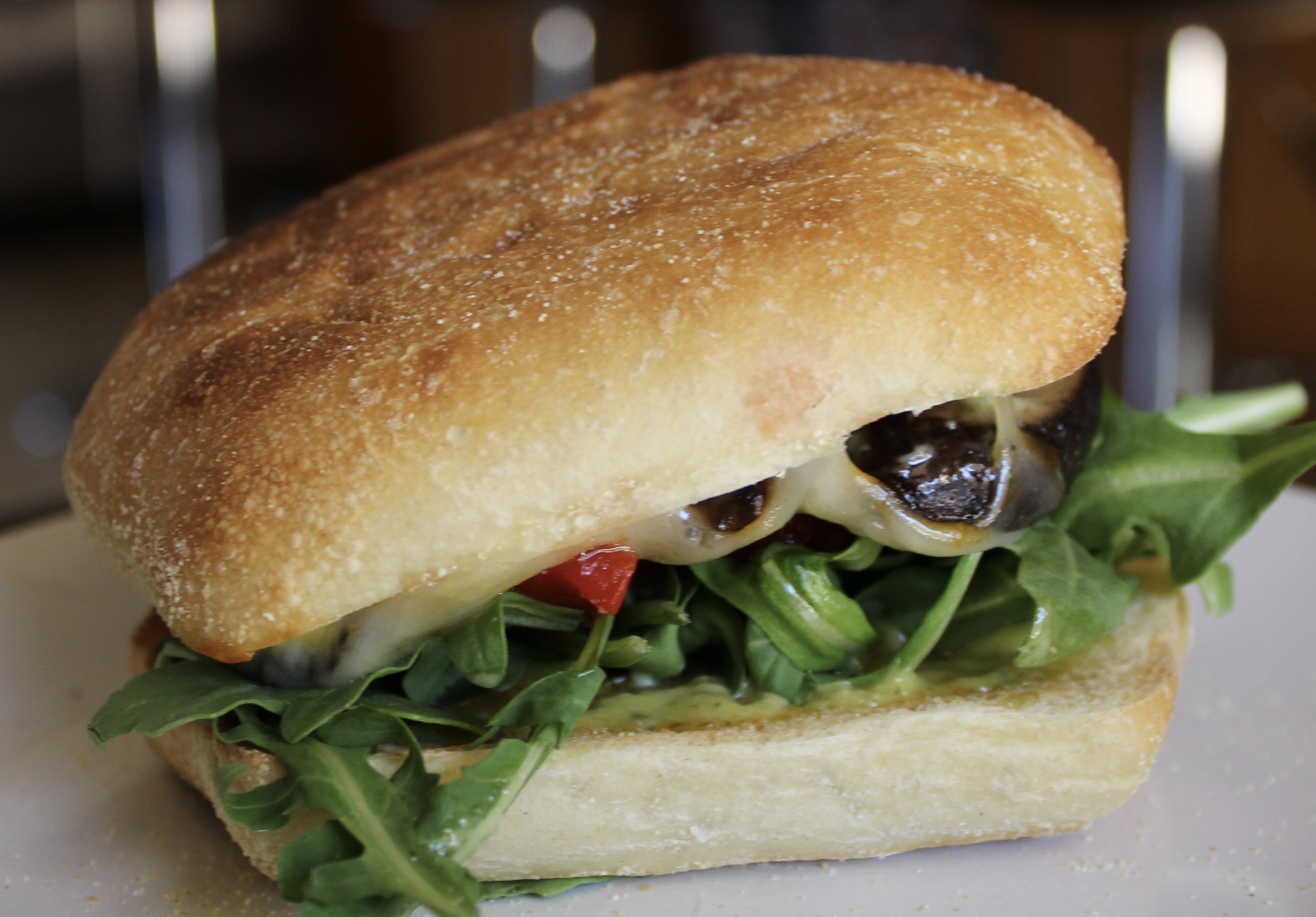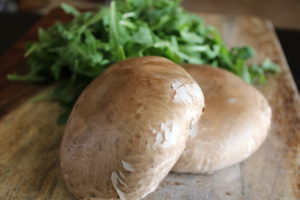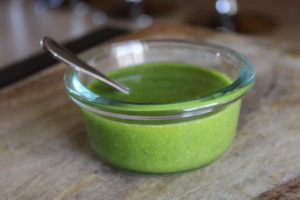 OK – now that you know how to make homemade pesto, let me show you how I like to use it…
My family loves mushrooms – there's something earthy and texturally satisfying about them.  Plus they cook up so quickly that they are a great ingredient to work with, especially for a weeknight meal.  So I came up with this portobello mushroom sandwich that the kids LOVE.
You can make this meal in less than 20 minutes – hot, flavorful, and easy?  Yes, please!  Sometimes life gets so busy that it feels overwhelming to cook, but with this recipe, you can feel in control and confident.  That pesto gives this sandwich so much flavor that it'll make whoever is eating it feel like you've been working in the kitchen for hours!
I happen to have nieces and nephews in college right now, and I think this is a great recipe for them!  You don't need a lot of ingredients and it's quick to make…  Winner!
There are two places that we found great bread options for this sandwich.  (By the way, if you are curious, I am not benefiting by advertising my favorite stores – I am just sharing my honest opinion.)  We like the ciabatta rolls from Trader Joes, found in their fresh bread section, and the torta bread rolls from Costco.  The TJ rolls are smaller – really cute, in my opinion, and are a great size for me.  The Costco ones are bigger and a better size for the boys in our house.  But both are delicious and work perfectly in this sandwich.  Of course, feel free to use whatever bread you like, or even no bread at all!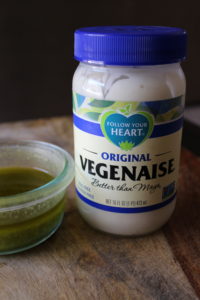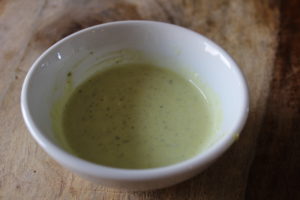 As for when to use that pesto…  you can use it straight up on the bread, or, what I like to do is mix it with a vegan mayo called Vegenaise, and create a creamy pesto sauce that's dairy-free and delicious.  My family loves this non-garlic "aioli" for french fries – SO GOOD!  Tell me that wasn't easy to make!
Now, when it's time to assemble this beauty of a sandwich, let your imagination go!  I feel that arugula is the perfect green here with its peppery flavor, but use what you like.  Then add whatever else makes you happy…  roasted red peppers, avocado, cheese, etc…  but alone, it is so good!  The picture to the left is of the Trader Joe's ciabatta roll, and the one to the right (and the main picture on top) is the torta roll from Costco.  Kyle wanted cheese on his, so I popped the bottom piece of his sandwich with the mushrooms into the toaster oven again to melt some muenster on top (shown on right).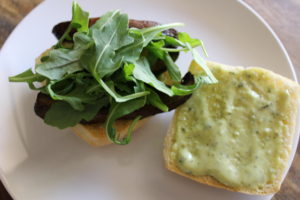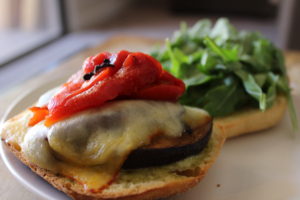 Pair this sandwich with oven fries, chips, salad, fruit,…  or simply have it by itself.  And enjoy the fact that it was so easy to make something so good!
If you feel like cutting out the carbs, follow the recipe for the mushrooms and turn this meal into a hearty salad and use the pesto to dress your greens!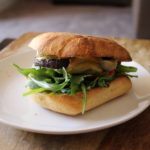 Balsamic Glazed Portobello Mushroom Sandwich with Pesto
Ingredients
4

portobello mushrooms

4-6

ciabatta/torta rolls

(If using the larger torta rolls from Costco, then it makes about 4 sandwiches. If using the smaller ciabatta rolls from Trader Joe's, you can make 6.)

2

tsp

balsamic vinegar

(I like using aged balsamic for a sweeter taste.)

2

tsp

olive oil

1

cup

fresh arugula

(I like getting mine from Trader Joes.)

1-2

pieces

roasted red pepper

(Optional - the jars from Trader Joe's are so convenient.)
Instructions
Wipe the mushrooms clean with a damp paper towel and cut into 1/2 -inch slices.

In a large skillet over medium-high heat, pour in roughly a teaspoon of olive oil and sauté sliced portobello mushrooms. Cover, so the heat can distribute more evenly across the mushrooms. You may need to drizzle some more olive oil, if your mushrooms seem dry after a couple of minutes in the pan. Check occasionally and stir to allow all the mushrooms to have shared contact with the pan.

Once all the mushrooms cook down and look moist, season with salt and pepper. Drizzle 5-6 rounds of balsamic vinegar to lightly coat all the mushrooms. Please adjust the amount of vinegar to your liking. (I don't usually measure the vinegar - I just pour straight out of the bottle, so 5-6 rounds equates to about 2 tsp.). Stir to coat all surfaces of the mushrooms and cover for a minute to let all the flavors come together.

If you are using an aged balsamic, you don't need to cook the mushrooms for too long because it is already fairly thick. But if you are using balsamic vinegar that is thin in consistency, then you will want to leave the pan uncovered to allow the liquids to evaporate and thicken. After all, you want these mushrooms to have a nice glaze on them.

While the mushrooms are cooking, I like to prepare the pesto sauce. You can just use pesto or you can add some mayo (I like Vegenaise, which is vegan and has a nice creaminess). I just take a generous spoonful of Vegenaise and a generous spoonful of pesto and mix until blended.

Once you feel your mushrooms are done, turn off the heat and let them hang out to let the flavors come together. During this time, you can slice your ciabatta rolls and start toasting them in the toaster oven or oven at 350 degrees F for a few minutes (stick around closely so you don't burn your bread!).

Spread your pesto sauce (with or without mayo) onto each side of the bread, pile in slices of glazed mushrooms to cover the bread, top with fresh arugula and enjoy! Here, you have the option to get creative and add other toppings like melted cheese (muenster or harvarti would be nice), goat cheese, tomatoes, roasted red peppers, and/or avocado!
---