Simple Indian-Spiced Summer Squash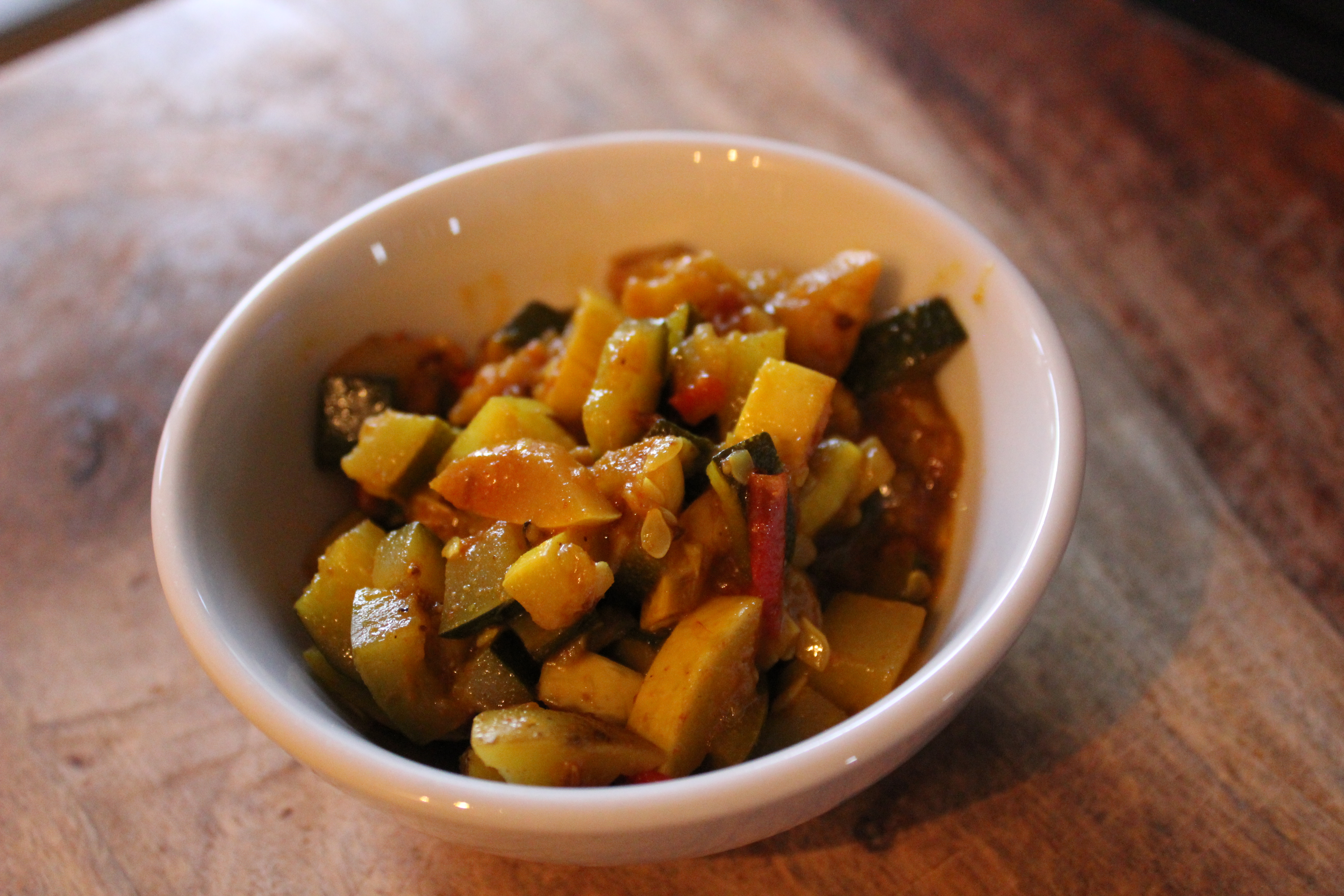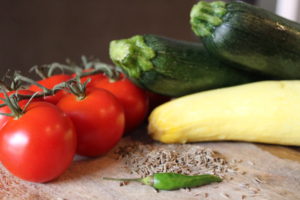 Summer squash is beautiful and abundant during this time of year – green zucchini, yellow squash, Mexican zucchini, eight ball zucchini…  any of these varieties can be used for this recipe.
I love buying produce that is in season – the fruits and vegetables are at their peak in flavor and the prices are usually at their lowest!  Plus, they are so pretty to look at!
The vibrancy of these ingredients looked so inviting at the market that I just had to put them together into a simple recipe for all of you!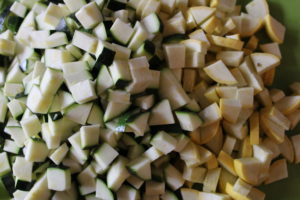 My mother-in-law taught me the laws of Indian cooking and how to play around with spices.  This came in so handy for me to expand my cooking repertoire because there was an entire new way to bring flavor to dishes that were sometimes considered bland and boring.  I used to cook my vegetables with oil, salt and pepper.  There's nothing wrong with that – those are the basic spices that I still use everyday, but it was really exciting to broaden my spice knowledge to change up the flavors whenever I felt like it!
If you have already read through Ma's Everyday Tomato-Cilantro Red Lentil Dal recipe, you'll already be familiar with the term foron.  This is the Bengali term where hot oil meets whole spices to create a sizzling and inviting fragrance in the kitchen.  It's in the foron that you can customize your flavors by mixing and matching different whole spices, like cumin seeds, mustard seeds, cinnamon sticks, bay leaves, green cardamon, fenugreek seeds, dried red chili, curry leaves, etc.  Just make sure the temperature of your oil doesn't get too hot because you just want to awaken your spices, not burn them.
Through this Indian-spiced summer squash recipe, you can experiment with different spice combinations to see what you like the best.  Because squash has a mild flavor, it will welcome the spices you introduce to it.  I like the combination of cumin and mustard seeds, but I also like it with the spices individually, just cumin or just mustard seeds.  This recipe calls for cumin, since you should already have it in your pantry if you tried the dal recipe!
Please leave me a comment below and let me know what spices you tried and enjoyed!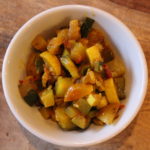 Indian-Spiced Summer Squash
This recipe can be served with basmati rice and lentils (dal). Full of flavor and nutrients, you can enjoy this dish, knowing that you're also treating your body well!
Ingredients
1

tsp

cooking oil

(I prefer grapeseed or avocado oil)

1/2

tsp

cumin seeds

1/2

jalepeno or green chili

(deseeded if you want to reduce the heat)

1

medium tomato

diced

1

yellow squash

diced

2

green zucchini

diced

1/2

tsp

turmeric powder

sprinkle

chili powder

to taste

salt

to taste

1

handful

cilantro

chopped
Instructions
Heat a medium pan (one with a lid) with 1 tsp of cooking oil to medium heat.

Pour 1/2 tsp whole cumin seeds into palm of one hand and firmly massage them with the thumb of your other hand to release the oils.

Sprinkle the cumin into the heated oil - you should hear a little sizzle. If your spices start smoking, then your oil is too hot - remove the pan from the heat to cool the temperature down and return to lowered heat once the temperature has calmed.

Add the cut jalepeno to the hot oil - this should sizzle too and will add flavor (and heat, depending on your jalepeno) to your dish.

Once you can start to smell the cumin release its aroma, it's time to put in the diced tomato. The liquid from the tomato will make a sizzle, so keep a lid close by to shield from splattering in case it is needed. Stir the tomatoes into the cumin and let them cook down for 1-2 minutes.

Add the zucchini and squash into the pan stirring to combine all the ingredients, then cover to let the vegetables cook down a little (3-4 minutes).

Remove the lid and stir. Then sprinkle in the turmeric, chili powder, and salt. Stir to combine and allow about 4-5 minutes for the vegetables to cook. They should be tender, not mushy. Garnish with cilantro.
Recipe Notes
This Indian-spiced summer squash recipe can be enjoyed with Indian bread, like naan, or over some basmati rice and lentils (dal).  If you are feeling adventurous or have left-overs, mix in some black beans and cumin powder and enjoy these vegetables in a taco!
---