Summer Strawberry Spinach Salad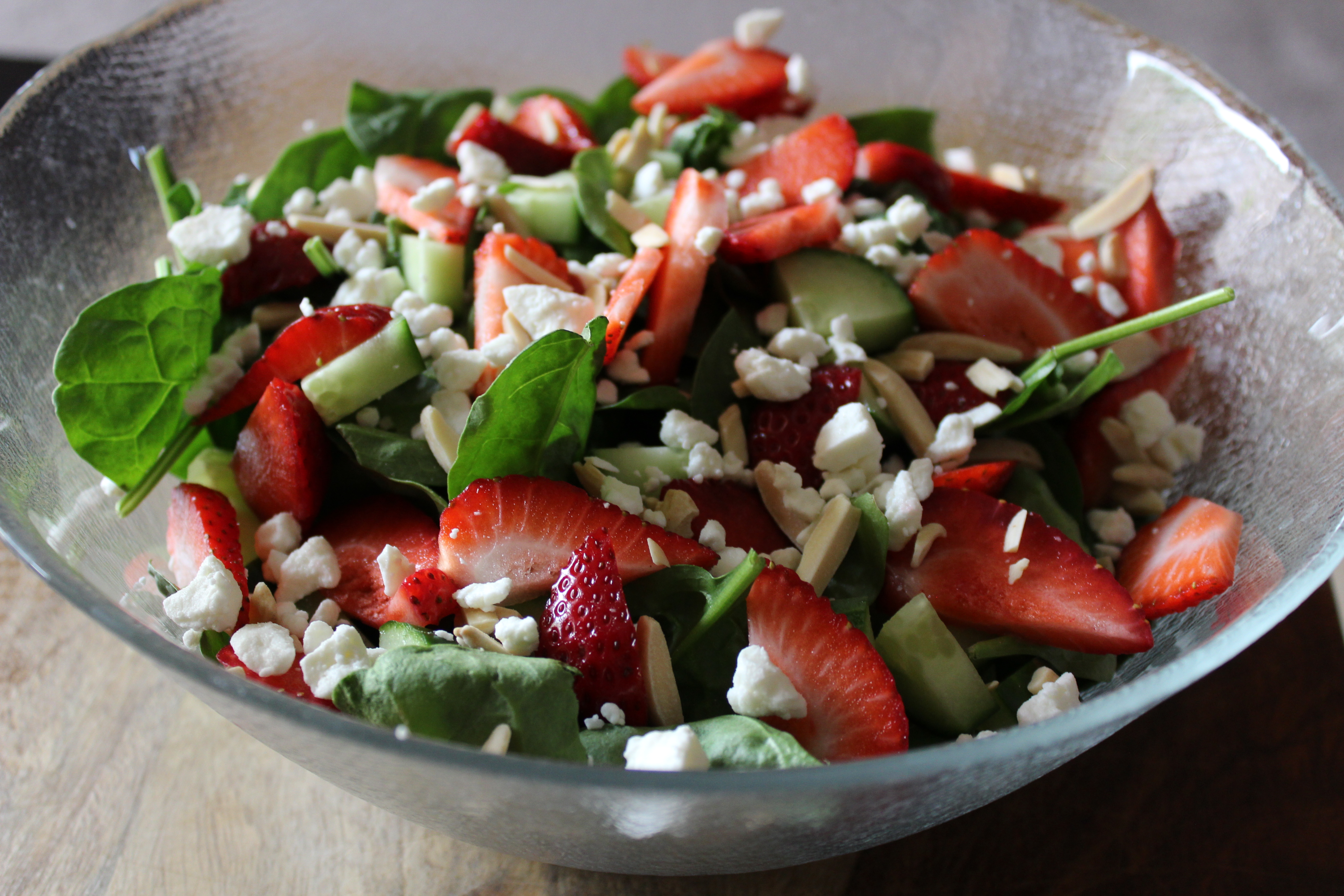 Strawberries and spinach pair so nicely together, and given strawberries are abundant at this time of year, I'm trying to find different ways to utilize them while the prices are low!
This strawberry spinach salad is not only easy on the wallet, but it's packed full of goodness and it's easy to put together.  Vitamins C, K, B, iron, potassium, antioxidants, and anti-inflammation are some of the  benefits you can get out of this power combination!  I'm no expert in nutrition, but when I researched these two ingredients, I was blown away by what this super duo could do.
Did you know that one serving of strawberries (about 8 berries) has 85 mg of Vitamin C?  That's 160% of the recommended daily value!  And I just learned that spinach is good for eye health because it's high in beta carotene.  In fact, I read that spinach has been used for medicinal purposes all over the world to help increase overall health AND spinach has an impressive amount of protein – yes vegetables contain protein!  There are 3 grams of protein in 1/2 a cup of spinach – AWESOME!
Greens:  I sometimes make a similar salad to this one using romaine lettuce instead of spinach or by adding romaine lettuce to the spinach , and the kids love it.  I like the addition owef cucumbers for the crunch, hydration, and cooling benefits.
Fruit: My boys love when I put fruit in salads, like mango, blueberry, and strawberries.  The fruit gives a burst of color and natural sweetness that makes the salad fun.
Cheese: I like using fat-free feta from Trader Joe's for a little bit of saltiness and creaminess.  Goat cheese would be nice too, but my children aren't particularly fond of goat cheese, so I don't use it much.
Nuts:  Slivered almonds work well in this salad to add a crunchy texture and added protein.
Dressing:  I like investing in aged balsamic vinegar, which is thicker than balsamic vinegar, but you can also reduce balsamic vinegar by bringing it to a boil in a saucepan to create a thicker, sweeter sauce.  I mix this syrupy vinegar with olive oil and season with salt and freshly ground black pepper to lightly dress the salad.  The flavor of the balsamic works well with the spinach and strawberries.  Lemon vinaigrette is also DELICIOUS!
Please leave me a comment below to share your favorite variation of this salad or how you like to dress it.
Summer Spinach Strawberry Salad
Strawberries and spinach - a match made in salad heaven! This salad would be great for a dinner party or potluck. To make this vegan, please omit the feta cheese.
Ingredients
2

cups

organic baby spinach

2

cups

organic strawberries

(hulled and sliced)

2

oz

crumbled feta cheese

(I like the fat free feta from Trader Joes)

1/4

cup

slivered almonds

(I get mine from Trader Joes)
Instructions
Assemble ingredients together in serving bowl and toss with your favorite dressing.

Add dressing when ready to eat. Wishing you good health and happiness!
---