Homemade Basil Pesto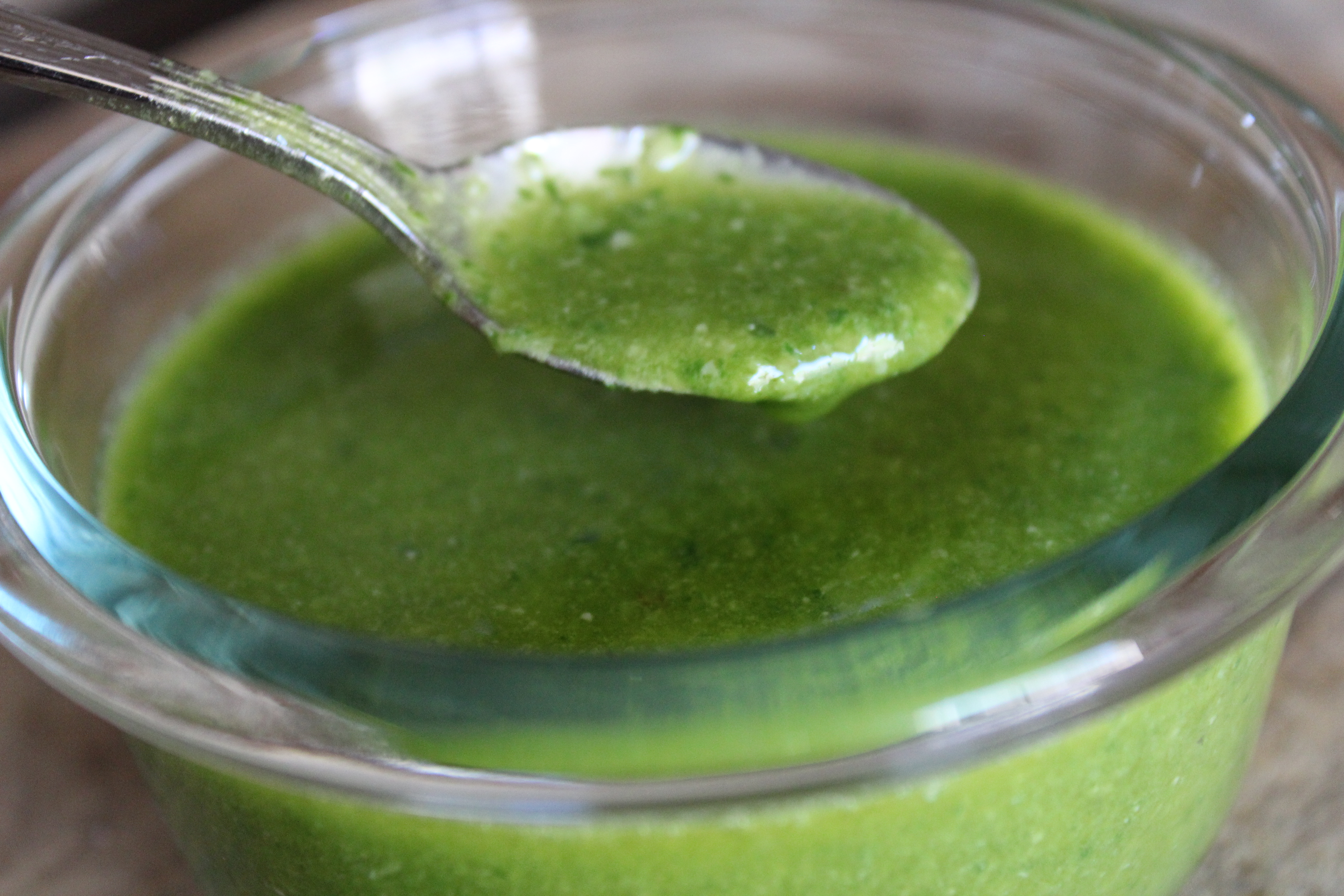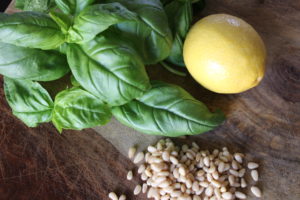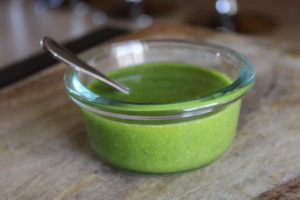 I just love how simple it is to add bright and bold flavors to dishes by using basil pesto.  This delicious Italian sauce is traditionally made with parmesan cheese and garlic, but it's just as good without.  In fact, it freezes better without the cheese!
Here's a breakdown of the ingredients, so you can make your own variations to the basic recipe below.
Fresh Basil:  If you happen to have your own garden (I would love to some day!), this is a great way to utilize your beautiful harvest!  But if you don't, like me, I like going to Trader Joe's to either buy the basil plant in a pot or get the container of fresh basil that is ready to go!  Farmer's markets and the local grocery store are also great places to find fresh basil.
Nuts/Seeds:  Pine nuts are traditionally used in pesto, but you can actually use your choice of nut/seed, depending on personal preference or food allergy.  Almonds, walnuts, and pistachios are some alternatives to try.  To keep the nut oils from going rancid, I like to store my pine nuts in the freezer, since they tend to be an expensive ingredient (the pine nut comes from the pine cone and is laborious to harvest).  The best deal I've found is to get them from Trader Joe's.
Olive Oil:  Using extra-virgin olive oil for pesto is worthwhile to add to the taste.  I get mine from Costco, and I use it for practically everything.
Parmesan Cheese:  Parmesan gives a salty/nutty taste to the pesto and is a delicious addition – I love parm!  However, most parmesan cheeses are not vegetarian because they contain animal rennet.  BelGioioso, Trader Joe's, and Dutch Farms are a few brands that offer vegetarian parmesan, so we don't have to avoid this ingredient completely to remain vegetarian.  To make your pesto vegan/dairy free, you can add a small amount of nutritional yeast or leave out the cheese altogether.  The recipe below has a punch of flavor and it doesn't use cheese.
Garlic:  Although this is a traditional element in pesto alla genovese, to keep this recipe chi friendly, I leave it out.  Honestly, I don't miss it.
Salt/Pepper/Chili Flakes:  Salt brings life to all the flavors involved and freshly ground black pepper adds a little kick that I love.  To give your pesto some heat, feel free to add some chili flakes.
Lemon Juice/Zest:  To liven up the taste without adding more salt, lemon juice and even the lemon zest adds a brightness that I love.  I use a microplane grater for zesting and a citrus squeezer for juicing.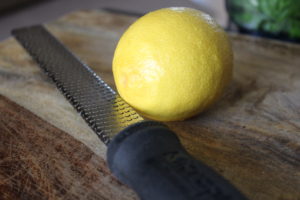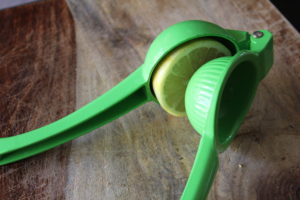 Classically, your ingredients of choice are blended together in a mortar and pestle, but I much prefer using a blender or food processor.  Have fun mixing and matching until you create a pesto that you love.  Here's a very simple version my family likes to call Presto Pesto because it's so easy to make!
Presto Pesto
This is a simple recipe for homemade basil pesto using very few ingredients. There are many variations of pesto you can make by adding or changing out ingredients. Toss it in some pasta, add it to a sandwich, stir it in some soup... the options are endless!
Ingredients
2

cups

fresh basil packed

(about 2 large bunches)

2

Tbsp

pine nuts

(optional: toast in dry pan to bring out the flavor)

1/2

cup

extra-virgin olive oil

1/2

cup

parmesan cheese

(optional)

salt

to taste

freshly ground black pepper

to taste
Instructions
Combine basil leaves, pine nuts, salt and pepper in food processor or blender until finely minced.

With machine running, slowly dribble in the oil and process until the mixture is blended.

If including cheese, add it at this time and pulse briefly to combine. Taste and adjust salt/pepper accordingly. Use immediately or store in refrigerator. This recipe without cheese freezes well in ice cube trays. Once frozen, store in sealable freezer bag.
---