Olive Oil Banana Bread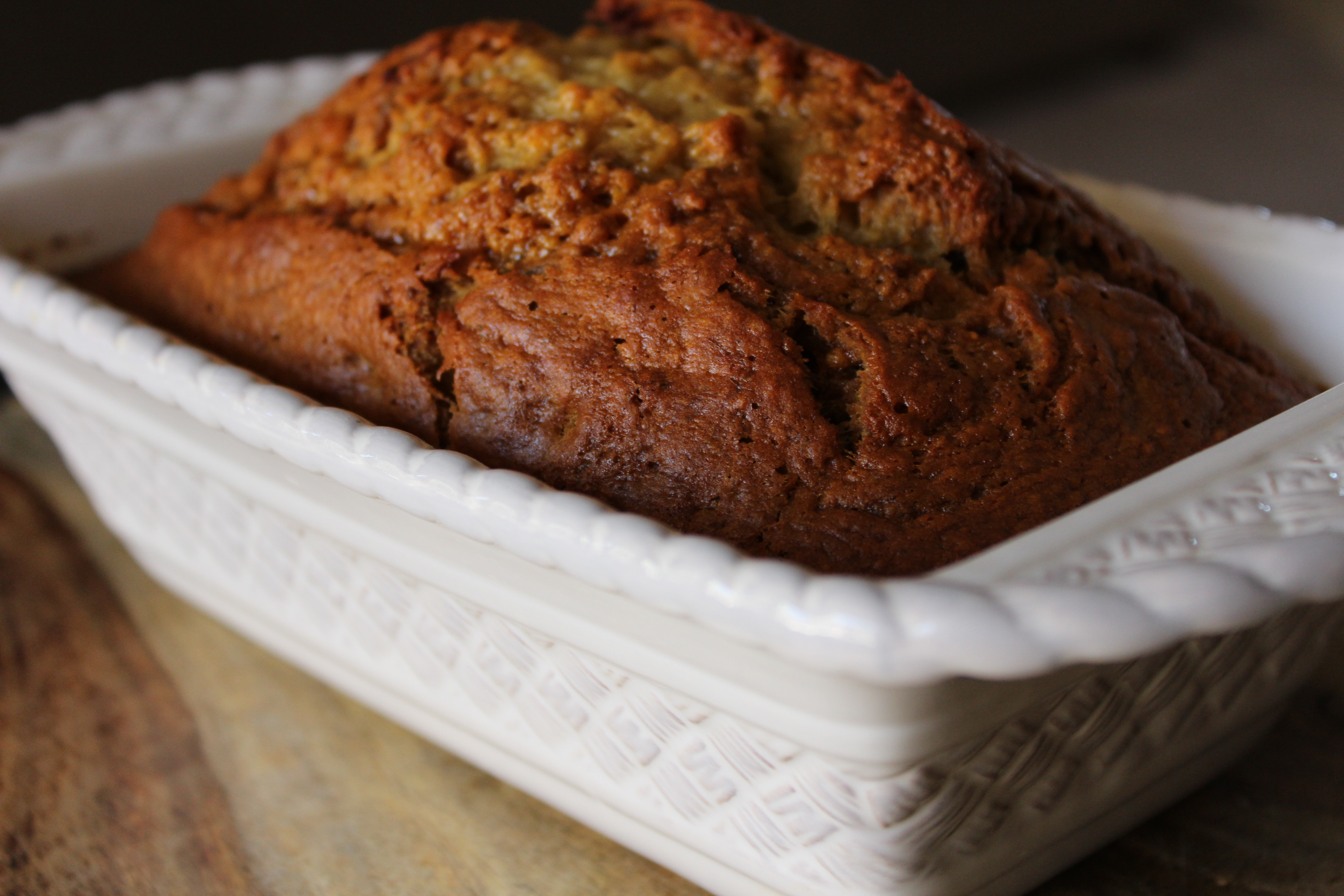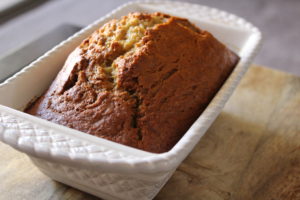 Yes!  Let the bananas go brown!  We've got just the job for them…
I love making banana bread – the house smells amazing and it always draws a crowd.  The kids come home from school and get really excited to dive in when it's still warm from the oven.  It's an easy way to feel like I just won "Best Mom" award.  Who doesn't like that feeling?
I also love baking banana bread for my friends and inviting them over for tea/coffee.  This recipe is really moist and pairs nicely with a hot beverage.  It honestly makes me smile thinking about this banana bread!  So comforting and satisfying.
There's always so much appreciation for the work that goes into this delicious baked goodness – it's so worth it.  And the best thing is…  it's really easy to put together.
When I was in middle school, I started baking.  I started with box mixes – yellow cake, marble cake, lemon cake, brownies…  Then I moved to baking from scratch, and banana bread was the first baked goodie that I chose to make.  Oh boy, did I fall in love!
Yes, banana bread and I go way back!  Now, it's such a joy to make it for my kids and have them in the kitchen with me to make it.  Ok…  can I stop and say that I love it when I get to cook with other people who enjoy cooking?  I have such fond memories growing up cooking with some of my favorite people in the kitchen – my mom, dad, grandmothers, brother, aunts,…  And now I get to add my kids and husband to the list?  I'm a lucky girl!
When we make banana bread as a family, I enlist help to gather all the items needed, measure out ingredients, grease the pan, etc.  One of the favored jobs that my boys used to fight over is getting to smash the bananas!
We hope you enjoy making memories through cooking and baking!  It's such a treasured experience.
We don't mind when bananas overripe in our house…  because we know exactly what to do with them!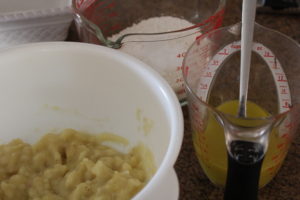 I make a different recipe now than I made back in my teenage years.  This recipe is a take on one I got from a co-worker.  I like it better because it uses less ingredients and is super moist.  My old recipe used to occasionally come out dry.  No one complained, but now I know better!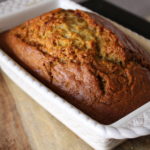 Olive Oil Banana Bread
Looking for a moist and delicious banana bread that is sure to impress? My friends and family love this one - I hope you love it too! By the time I remembered to take pictures of it sliced, the whole thing was gone! Great for gift-giving and heats up well in the toaster oven!
Total Time
1
hour
15
minutes
Servings
12
slices (depends on who's cutting!)
Ingredients
1

large

egg

1/4

cup

olive oil

3

large

bananas

1/2

cup

agave syrup

(You can use 3/4 cup sugar or other sweetener of your choice.)

1 1/2

cup

all purpose flour

1

tsp

baking soda

1/2

tsp

salt
Instructions
Preheat oven to 350 degrees F.

Measure out dry ingredients into one container. I have two measuring cups, so I just put all the dry ingredients into one. If you only have one measuring cup, set aside the dry ingredients in a bowl, so you can use the measuring cup for the wet ingredients.

Pour oil in measuring cup. Crack egg into measuring cup and beat together with fork. Keep your fork for the next step.

Mash banana in bowl with a fork. (I have a friend that swears it comes out better if you pinch off the ripe banana with your fingers. To me, I think the secret ingredient here is love, so pick whichever method works best for you.)

Pour the oil-egg mixture into the bananas and measure out the agave syrup. If you are using sugar, I would measure it in Step 1 with all the other dry ingredients.

Stir the wet ingredients together to combine. Then add in dry ingredients in two batches and stir with wooden spoon until well-blended.

Pour into greased 9x5 loaf pan. I use an olive oil cooking spray, since I'm cooking with olive oil. You can use your favorite oil or butter.

Bake for 1 hour. Ovens may vary, so test with toothpick in the middle to see if it's baked all the way through.
Recipe Notes
Please feel free to adjust the sweetness to your liking.  The original recipe called for 1 cup of sugar, which I felt was too sweet, so I decreased it.
If you're a purest, you'll love this recipe the way it is.  But if you want to be adventurous, I recommend adding your favorite nuts and chocolate chips!
---